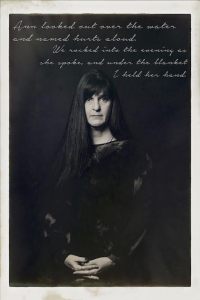 Lisa Hayes-Minney is an Appalachian writer, speaker, educator, and artist. She earned her MFA in Creative Writing from West Virginia Wesleyan College and holds additional degrees in English, Journalism, and Liberal Arts. She lives with her husband, Frank, on Memory Lane in rural West Virginia and has been a trusted columnist in her regional audience for more than 30 years.
Lisa enjoys working with words, paints, plants, paper, printing, and vintage typewriters. Visit her online studio to browse currently available creations. She maintains significantly-sized vegetable, flower, and herb gardens, and tends hens, bees, and a West Virginia homestead. Beloved pets include a spoiled beagle, a come-and-go cat, a feral cat, and a blind chihuahua mix.
An active member of West Virginia Writers, Inc. Lisa serves on the organization's board. She writes online at Two-Lane Renaissance, (reprinted in The Trader's Guide), and is currently planning writer workshops and retreats for the 2024 season.
Her written work has also appeared in GreenPrints Magazine, Memoir Magazine, The Charleston Anvil, DoveTales Magazine, and other publications. Her writing also has been included in two book collections: "Mountains Upon Mountains: New Appalachian Nature Writing," and "Feminine Rising: Voices of Power & Invisibility."